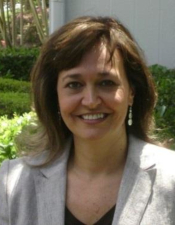 Role on REVEALS:
Deputy Principal Investigator
Affiliation:
University Of Central Florida
Honors:
Amelia Earhart Fellowship, Zonta International Foundation, 1996
Amelia Earhart Fellowship, Zonta International Foundation, 1997
Background:
Dr. Esther Beltran graduated from Medical School at University Autonoma of Barcelona, Catalonia in Europe. She did internship and residency rotations in General Surgery and at the Department of Plastic/ Reconstructive Surgery at Hospital of Sant Pau, Barcelona. She also obtained scholarships in surgical specialties in Scandinavia. She later blended her interest in aerospace and aviation sciences obtaining a Master Degree in Aerospace Sciences from the University of North Dakota, USA and helped train commercial and military pilots. She moved on to obtain a Doctoral degree in Aerospace Medicine/ Occupational Health from the School of Public Health at the University of Texas-Houston Health Science Center, USA. Her interest in Aerospace Sciences grew and she became one of the medical doctors for the development of Spacewalk protocols for the construction of the International Space Station at NASA-Johnson Space Center. During her stay at NASA she was awarded two Amelia Earhart fellowships from Zonta International Foundation in 1996 and 1997. Dr. Beltran is an expert on humans living and working in extreme environments. She is also a diving doctor and has served as the medical officer for underwater archaeological expeditions with Texas A & M University / National Geographic. Dr. Beltran has served as an advisor for the Texas State Trooper search and rescue teams. She has also participated in different International Advisory boards for World Health Organization, Central American countries specifically on extreme environments and difficult working conditions. She was the Medical Director of Disaster Management at Red Cross, Florida Coast-to-Coast chapter. Her expertise in Environmental Health has also been important for the preparation of preventive disease protocols in disaster management relief. Dr. Beltran has been a leader in many research and teaching programs in Medicine, Science and Aerospace field as a professor at several Universities in the United States. She currently serves at Florida Space Institute as Chief Scientist/Director of Space Medicine & Life Sciences. She is also a faculty member at University of Texas-Houston Health Science Center/School of Public Health. She has developed educational and service programs promoting the study of science, technology, engineering, and mathematics (STEM) at different educational levels ranging from K-12 to doctoral programs; her interest is to enhance the status of women and children worldwide.