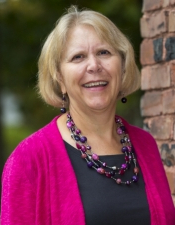 Education:
Ph.D., Massachusetts Institute of Technology
B.A., Wellesley College
Areas of Research:
Minerals; minerals and health
Mössbauer Spectroscopy
Mar, The Moon, & Planetary Science
Optical Spectroscopy
Synchrotron Spectroscopy
FTIR Spectroscopy
Metamorphic Geology
Water in minerals
Honors:
Sigma Xi, 1980
1984 Mineralogical Society of America (M.S.A.) Grant for Research in Crystallography
1990-1991 National Lecturer, Mineralogical Society of America
Outstanding Service Award, Mineralogical Society of America, 1991
Fellow, Mineralogical Society of America, 1995
Girls' Incorporated, Holyoke, Massachusetts, Honoree, 1 April, 2004
Meribeth E. Cameron Faculty Award for Scholarship, Mount Holyoke College, 2010
Participating Scientist, Mars Science Laboratory Science Team, 2012-2014
J.K. Gilbert award for outstanding contributions to planetary science, Geological Society of America, 2016
Background:
Dyar has written more than 200 papers in scientific journals and has been awarded more than $4.1 million in 30 diverse grants from NASA and NSF. These include support for her participation on the Mars Science Laboratory science team; its calibration target was built at the College. She also serves on three of the eight NASA Solar System Exploration Virtual Institutes. She is pioneering development of novel machine learning techniques for interpretation of spectroscopic data. In 2016, Dyar received the G.K. Gilbert Award from the Planetary Geology Division of the Geological Society of America for outstanding contributions to the solution of fundamental problems in planetary geology. She is a Fellow of the Mineralogical Society of America and has served as Associate Editor of The American Mineralogist for the past 20 years.